Wolfenstein Goodies Updates For Sept 16, 19, & The Week of Oct 13, 2012Next week
7 new updates!
October 13, 2012
Added 3 versions of Neurowolf files for Wolfenstein 2009 from
moddb.com
. They are versions
.01
,
.03
, &
.04
.
October 12, 2012
There are 10 Wolfenstein game Firefox Personas at
getpersonas
or
mozilla.org
. Thanks to Stanley Goodspeed, Laloeka, Berserkr, Chriss, zionzion, Kamikaze, and danielfaria.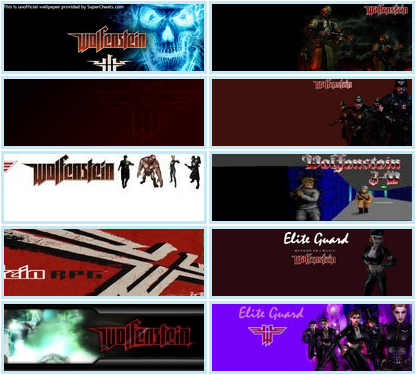 October 11, 2012
Hell'O' Kitty - Return to Kitty Wolfenstein mirror links for Wolfensteingoodies are fixed. Get it
without ZDoom
or
with ZDoom
.
October 10, 2012
I am cautiously optimistic about news of
The Ouya
, a $99, open, hackable console. Somebody please program an online multiplayer Wolfenstein 3D, Doom, Rise of The Triad 2013, or Unreal Tournament game for it! Then I'll buy an Ouya and we can co-op or deathmatch!

October 9, 2012
Valve is looking for beta testers for their new console hardware. It should take an hour. At first they are only looking for people in the Seattle/Bellevue area in Washington state. People in other geographic areas can be beta testers online later. Learn more
here
and
here
. I have no idea if they will have a Wolfenstein game like The PS3 has Wolfenstein 3D.
October 8, 2012
Added the
Hundenberg
total conversion of 4 levels by Majik Monkee.
October 7, 2012
Added Joshua's
Wolfenstein 2009 saved games
.
September 19, 2012
The
Playstation 3 500GB Super Slim
is now available if you want to play Wolfenstein 3D on Playstation Network. (No mod updates for the rest of this week.)
September 16, 2012
Added
The Greinholdt Covenant Part 2: The Formula SDL
by John Bucksnort. It's 12 levels for The Spear of Destiny and converted by Andy Nonymous.
Last edited by stathmk on Sat Oct 13, 2012 6:32 pm; edited 1 time in total (Reason for editing : Technical Problems)