Knights of the SS : Armour of Beowulf : 
M3 Castle Court 
Alpha Demo v 1.0

(Just to clarify this demo is STABLE and all known bugs have been worked out, it has been extensively play tested, I call it an Alpha Demo because it is short and there are no code changes, it lacks many features I plan to add)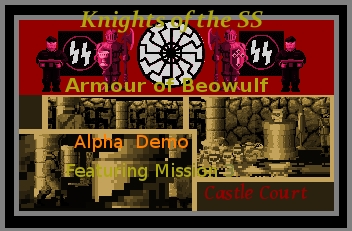 Just a few days ago now was Wolfenstein 3D's 25th Anniversary, and I am most pleased to honor that with the release of my Alpha Demo. 
In this Demo you will sneak into the Courtyard of DOSenstein Castle, where you will encounter heavy resistance, you will find the Nazis to be conducting rites of dark magick. 
-[ Someone please tell me if another Wolfer has already used the name DOSenstein Castle. I don't recall having encountered it before but who knows, anyhow I thought it was funny ]-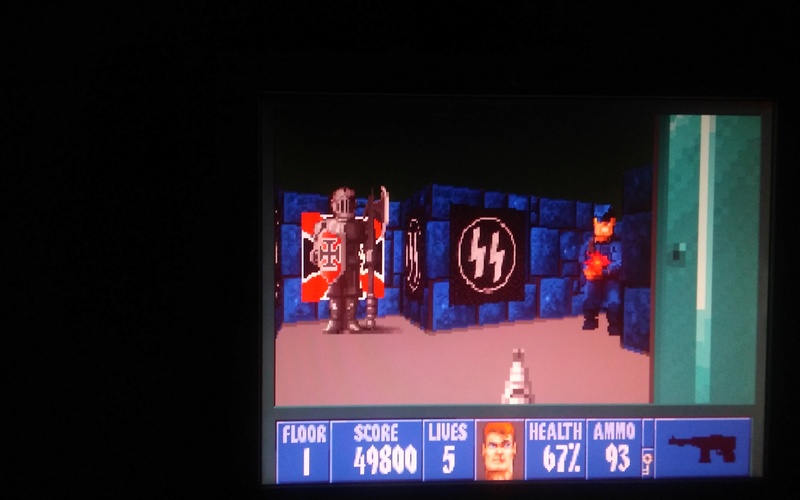 It runs on the Spear Of Destiny Demo platform. It is just 1 level.. well technically two but the second level is just a filler level since the SOD Demo is 2 levels. Level two is literally just an elevator lobby, one enemy, one secret with a couple treasure items so you it wont kill your score. 
There are no code changes, I have imported some graphics made by the community and provided for download for community use in other mods. I have credited them in my credits, if my manner of credits is not sufficient I will rectify that. I did modify a few of those graphics just slightly. I also changed the music up.  I highly suggest making sure all sounds and music are playing. It really creates the atmosphere.

I also created and included two versions of the Title Screen image, one for the in game Title Screen, and one for a Game Banner in the folder directory(with 3 format files). I had extreme technical difficulties while creating the Title Screen with regards to the Pallet. That's all I will say here about it. I addressed it further in the Release Notes. Suffice to say it is suitable for an Alpha Demo at best.
The Banner looks significantly better.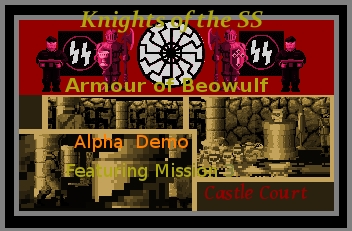 I have included the original EXE and an updated Demo EXE which patches some bugs. The `Castle Court' EXE in the main directory is the Updated SOD Demo EXE, the folder `EXE' contains the original and the updated EXE's. 
Also in the package you will find a few text files.
*'Read Me' - that contain all other files. The others are the Read Me file separated by Subject Matter. (It comes in 2 formats)
* `Castle Court' - Mission Briefing' - The would be in game "Read This", which is the Story Line of the Game followed by "Previews" for upcoming ID software based TC games by Falcon 93 Studios, as well my made but not yet available FarCry Maps(for the old school X-Box Farcry Instincts( the 1st one). This file also includes a Release Notes section.
* `Credits' - Where credit is given where credit is due, i.e. ID Software, the Wolf3D & SOD Mod Community, and of course Falcon 93 Studios.
Again the Read Me contains all of these in one document; your basic NotePad will open the simple format file.
* `A Word On LIBERTY' - This is a message about the value and price of Freedom. 
I hope it does not come off as too speechy, and I avoided advocating any particular political ideology, its emphasis is on Liberty itself. - This is not contained in the Read Me file.
* O yes before I forget there is some file that came with the updated SOD Demo EXE, 
I included it in the release package as I thought it might be important.
I have been wanting to make a Wolfenstein mod since I was a teenager
and I am very excited to release my first level
!!!
Somewhere I have a stack of papers with concepts and levels on graph paper, as well some files of the project I was working on Including a modified source code and EXE with lighting and atmosphere effects. 
I have as of recent been afforded a great deal of free time, and for the last week or two
 I have focused solely on this game demo. Now it is done and I must refocus on studying and working. Perhaps next year I will have some time to work on the TC. If I make fast enough progress on my studies and it truly clicks I may even be able to ration a few hours a week to work on making this a 2 or 3 level demo by port this into [and creating another level in] the SOD engine that partially reprogrammed years ago, it has a lighting effect a moon and rain, I think I got the tutorial from Dark One. 
I wanted to make a very simple demo, so I used the SOD Demo version. I did not have time to mess with the code, not to mention I don't even remember what all I did to the code back in the day, and the lighting effect parameters I set create some coloration issues (red turns green at some distances I think). 
So enough about all that.
Back to the Alpha Demo..
The story takes place in Nazi Germany in 1937. You are a member of a secret order called the Magi of the Radiant Star
* , your order has joined the Resistance and you are called to sneak into Castle DOSenstein and investigate rumors that the Knights of the SS are conducting dark magick rituals with powerful ancient talismans.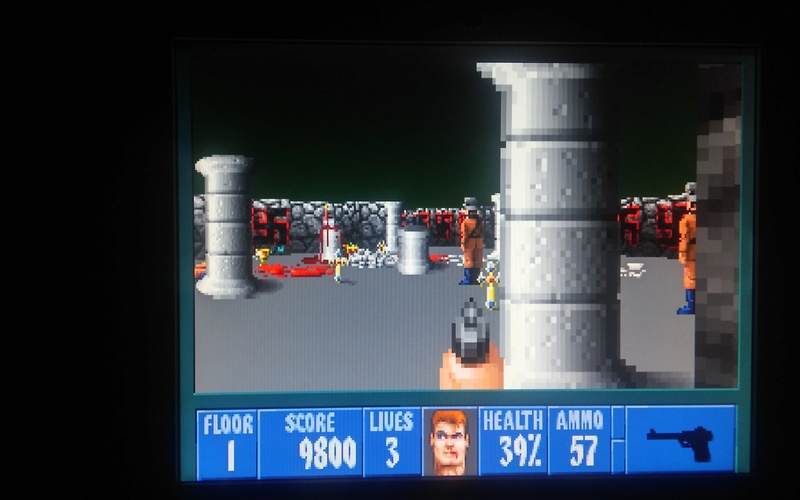 It is a rather difficult level on the hardest setting, Enemies are maxed out. As well as static objects.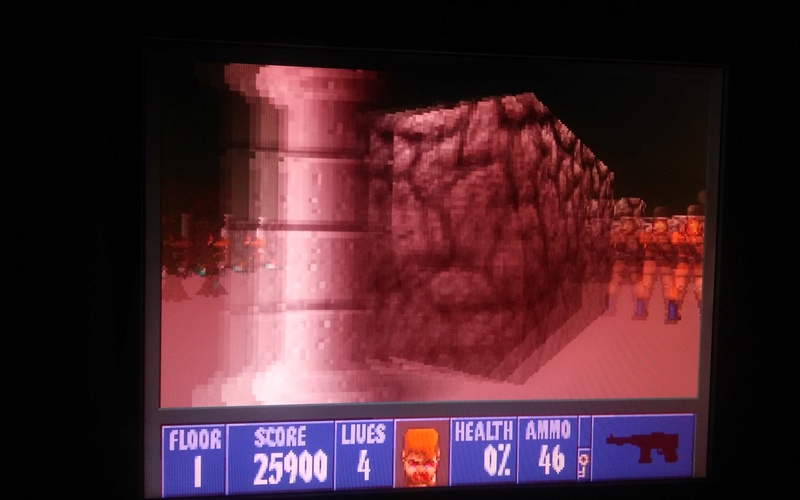 The Alpha Demo level is going to be Level 3 of the SOD TC called Armour of Beowulf from the planned series Knights of the SS.
I have allot of code, gfx, and audio, changes planned with features like new enemies, weapons, etc. 
I will post the contents of my Read Me post as a reply. It is a bit lengthy.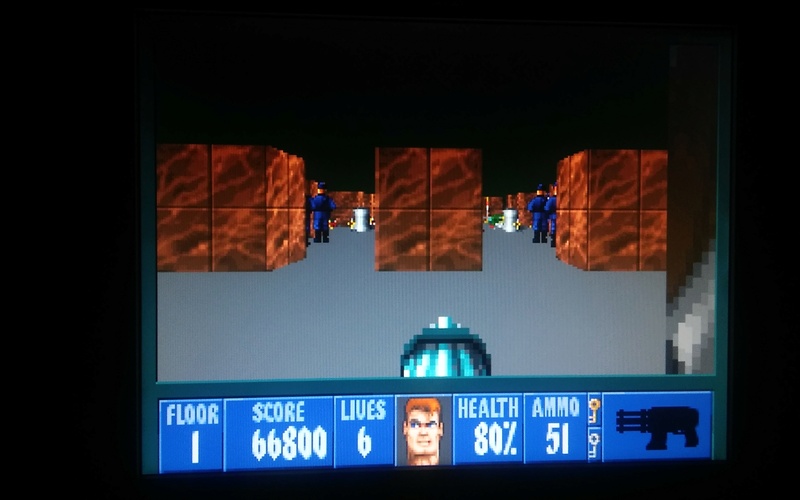 I hope you enjoy the Demo Game. 
Attachments

Castle Court.zip

Enjoy! :)
You don't have permission to download attachments.
(979 Kb) Downloaded 17 times
Last edited by Falcon93 on Sun May 07, 2017 3:36 pm; edited 16 times in total (Reason for editing : typos, add pics, etc.)