January 29, 2016:
Bombshell, the first new game from 3D Realms in a decade has gone gold!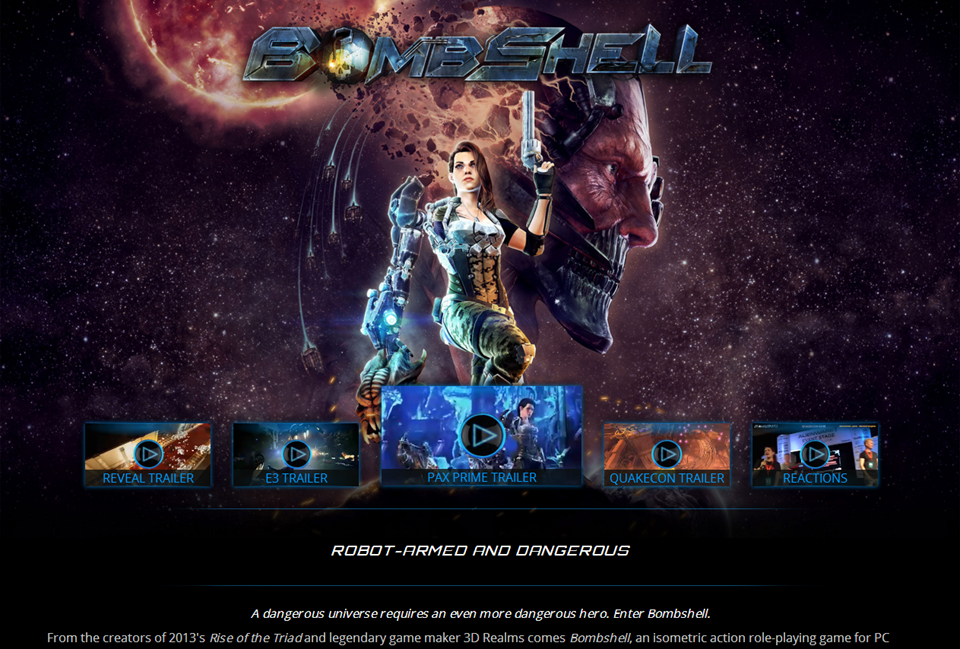 Bombshell is an Action Role-Playing game in which bomb disposal technician turned mercenary for hire, Shelly "Bombshell" Harrison must strong-arm her way across 4 planets in an Unreal Engine-powered galactic adventure to rescue the president (and humanity) from an apocalyptic alien threat. 
Links:
https://3drealms.com/news/bombshell-has-gone-gold/
http://store.steampowered.com/app/353190/
(Available Now!)
http://www.bombshell.com
My thoughts:
  This game is Robot-armed & dangerous!  It's 3D Realms' first game in a decade.  From watching the videos, it appears to be isometric & that you can upgrade weapons.  I'm glad that it seems to add elements of a 3D Realms alien game meets The Unreal engine without being a rehashed Duke Nukem.
EDITS:
 There are 44 Steam achievements.  There's a Steam promotion ending on February 5 where you get to upgrade to The Digital Deluxe Edition for $5.39 more.